I know. Sounds crazy, right? We are constantly bombarded with the message that to be successful, our business needs to reach an income of 6 or 7 figures. I call bull on that.
And here's why. We can do #allthethings to scale our business – group coaching, membership programs, courses – but at what cost? There's the financial cost such as outsourcing, support staff, child minding or home help. And then there's the cost of time, missed opportunities or even our own health.
Having a successful business simply means being in the flow and doing business your way. And you do this simply by aligning it with your values.
Here's my blueprint on how to do exactly that.
You can download your free worksheet here so that you can complete these steps and grow your business your way.
1. Values Inventory
What's important to you? The first step to align your business is to rate your values from being really important to you, to not-so important. The idea here is to understand what matters to you, so that you can become clearer in your decision making and more aligned with where your business is heading.
What are your top three values? Which of your top three are NOT being met in your business? What needs to change? You may need to look at investing in help, saving more or working different hours to grow your business.
2. Your flow state takes time
Now take a look at the time that you have available to devote to your business. You'll be surprised at how little time you have available once you take out the non-negotiables over a week such as exercise, well-being, kids' activities, down time, volunteering and even sleep! There's a helpful section in my free worksheet to take stock of your available time.
Add up the non-negotiable hours. There is only 168 hours in a week, so what's left over?
Time is an unrenewable resource, so this is it! This is all you have available. Does the time needed to invest in a 6-figure business fit into your week? If not, then it's time to reassess your idea of a successful business.
3. Your flow state requires you to stay in your zone of genius
The third step is to look at whether you have the capacity to offload tasks outside your zone of genius.
List all the tasks that you do in your business, as well as the ones that you should do so you can grow your business. How much time is allocated to each of these tasks? Use the worksheet to help you keep track of all the tasks.
Now here's the clincher: add up all the time you've allocated. Is it more or less than the time you have available from Step 2?
If it's more, than you need to drop or outsource some of the tasks. Even if it's less, what could you hand off so you can spend more time building an aligned business?
4. What brings in the dollars?
Take 5 minutes to have a look at which service or product is your "profit driver" or has the highest profit margin. This is what you need to focus on right now! Think about how you could maximise your sales. Perhaps you need to focus on marketing or a re-launch.
If you don't have a high profit margin service or product, then a 6-figure business will be hard to achieve! You'll need to sell more to make more money, which will likely take up more of the precious little time you already have!
5. Can you scale?
6-figure businesses rely on the ability to scale what you've got. This means reaching more people with little or no additional time input from yourself. What are the options to change your delivery model or increase your efficiency? And does this fit with your values from Step 1? Does it fit with the time you have available from Step 2?
To be able to scale, you're going to need to really focus on the time aspect. In the short term you'll need to either work longer hours or find more time by giving up 1:1 clients (and take an income hit too!). Are you prepared for this?
6. Income streams
Think about how often you get paid. Is there recurring income in your business? If you need to invest your time in constantly finding new business, then your ability to grow becomes more difficult. Taking into consideration your time available from Step 2, this may be hard to achieve.
Recurring income for 6 figure businesses occurs with membership programs or flagship annual events. So, in addition to the time aspect, you'll need to determine whether these activities fit in with what your ideal life looks like.
7. Are you ready?
Growing to a 6-figure business can take time and effort. Which we now know has a limit! Take a look at whether you and your business are set up to take advantage of growth opportunities.
Do you have the emotional and practical support?
What systems are in place to support a 6-figure business?
Have you articulated your Unique Selling Proposition?
What are you willing to give up, or invest in, to achieve business growth?
So many considerations, I know. But the bottom line is this. A 6-figure business may not be the right choice for you. Your business is an extension of you – how you express yourself, your purpose, what you love to do. Living in the flow, in line with your values, is how you choose success.
Make sure that you've downloaded the worksheet using the form below and spend 10 minutes evaluating whether growing to a 6 or 7 figure business is the right choice for you. Send me an email and let me know what you've discovered!
IS GROWING A 6-7 FIGURE BUSINESS RIGHT FOR YOU?
Scaling isn't for everyone or this might not be the right time for you. This workbook will help you understand if:
• Scaling your business aligns to your values
• You have time available without compromising other things that matter
• You have the systems or product offers in place to scale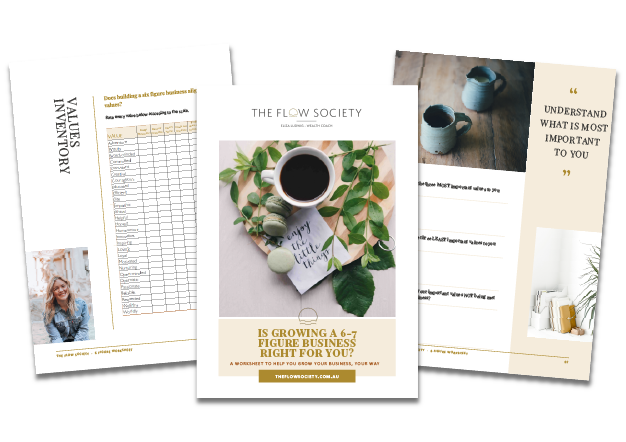 IS GROWING A 6-7 FIGURE BUSINESS RIGHT FOR YOU?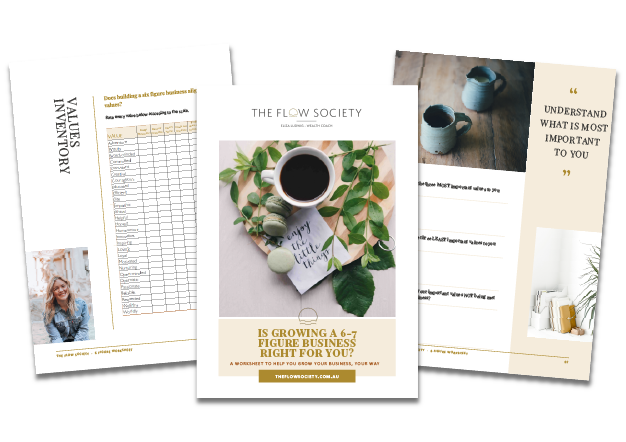 Scaling isn't for everyone or this might not be the right time for you. This workbook will help you understand if:
• Scaling your business aligns to your values
• You have time available without compromising other things that matter
• You have the systems or product offers in place to scale